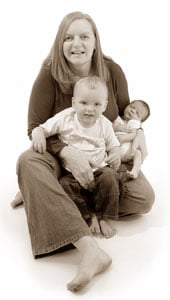 The founder of Save Our Sleep, Tizzie Hall, is an internationally renowned baby whisperer and bestselling author of the Save Our Sleep series, which have been translated into seven languages.
Born and raised in Ireland, Tizzie's journey started when she was a young child. She fondly recalls :
"All I ever wanted was a baby of my own so I could practice being a mummy. I was seven when my baby brother, Richard, was born. I was elated at his arrival, but, after just nine weeks, Richard died suddenly of cot death (SIDS).
From this point I became the big sister to every baby I could find. When parents came to school to pick up their children, I would dash to those with a baby and ask if I could have a cuddle. On Sundays I was not beside my family in their church pew, but rather sitting in one with a baby I could hold. I believe that these parents allowed me to interact with their babies because they realised how deeply the loss of Richard had impacted upon me.
I was nine when it struck me that I could help parents understand the message in their baby's cry. I would regularly take baby Peter, the child of a family friend, out for a walk by myself, but one day his mummy decided she would accompany us. After strolling for about five minutes, Peter started to cry and his mother immediately stopped to pick him up. When I said "Don't pick him up, that's his going-to-sleep cry", she looked at me strangely. I explained that he always cried at this point during our walk but I never disturbed him because my mother had instructed me not to pick a baby up until I was on the green (a soft grassy field where we played as children). By the time I reached the green each day, Peter would be fast asleep. That day his mother agreed to leave him until we'd reached the green, possibly to prove me wrong. However, as predicted, baby Peter had fallen asleep."
It wasn't long before mothers from all over the neighbourhood were calling Tizzie when they couldn't calm or comfort their babies. The "baby whisperer" was born.
After finishing school in Ireland, Tizzie made her way to the UK to continue studying. Her reputation as a "baby whisperer" spread and again she was receiving calls at all hours of the day and night from desperate parents asking for help with their babies and children. Tizzie would solve problems such as babies not sleeping through the night, not taking their bottles, or refusing to give up their dummies.
In 2002 she moved to Australia where her desire to work with babies and children continued. Tizzie was quickly sought after by parents across the country who more often than not commented " "You should write a book" and "You should clone yourself so more parents can get help." So, she wrote the Save Our Sleep® book and created the Save Our Sleep® website, which was the closest thing she could think of to cloning herself.
Shortly after writing Save Our Sleep® baby, Tizzie went forward and wrote 3 more books including Save Our Sleep® Toddler, Save Our Sleep® Feeding and My Very First Diary – these books have been translated into many languages and audio Books.
The Save Our Sleep empire has grown and evolved over the years as Tizzie Hall continues to learn more about babies, children and sleep.
Tizzie quickly moved into branding her own baby bedding as she discovered there was a demand in the market for high-quality baby products that were tried and most importantly, tested for their safety.
It was during this time, through the influx of parents coming to her for advice and products, that Tizzie realised most babies' sleeping issues were as a result of not having enough bedding to feel warm and in return secure to sleep un-aided in the safe on their back sleeping position. This put an emphasis on the bedding products Tizzie was producing and is when and where her famous Bedding Guide was born.
In 2018 Tizzie opened a second store she named "The HUB" in Geelong, Victoria. Tizzie would host workshops here and sell baby products. Most of Tizzies "Hub" clients travelled from Melbourne and when the COVID-19 pandemic hit in 2020, her workshops stopped and her shops closed.
That's when Tizzie moved her advisory team completely online. It's right about now when Tizzie realises that being solely online, she can not only reach local, Victorian clients, but national and international clients, readers and friends, all from her home (which she shares with husband Nathan and her three children Darragh, Cillian and Ciarán).
"Since moving our services online, we've been able to reach people far beyond Melbourne and Greater Geelong, and the best surprise has been the real community that has sprung up around it, with new parents across the world connecting and supporting each other throughout the pandemic."
The Save Our Sleep advice includes specific age related baby and toddler routines, dummy use, expressing, dealing with premature babies and multiple births, breast and bottle feeding and how and when to introduce solids, potty training, how to deal with tantrums, the transition from cot to bed and much, much more. Tizzie's tried and tested approach will teach you how to deal with the known and the unknown causes of sleep, behavioural and developmental issues in baby's and toddlers based on many years of experience with young children.
Save Our Sleep is now a team of dedicated professionals who, along with Tizzie, and through the platform of her webstore and a complimentary Support Group, assist and advise parents all over the world who are using the Save Our Sleep books and products.
Tizzie and Save Our Sleep's advice is not medical or scientific, but a collection of tried and tested solutions and tips based on many years of experience with babies and young children. You should extract the advice that best fits in with your lifestyle and beliefs. Tizzie's hope is that Save Our Sleep® will give parents the confidence to raise happy and contented babies and children.